Even More Color Splashes for Angie the Augustynolophus
I repainted the Orange with a lighter shade by adding more Sun Yellow to the mixture. It came out on the Salmon Pink side of Orange. I added a Purple outline that I made by mixing the Navy Blue & Apple Red. The first mix was so dark it dried black. I added some White to lighten the shade of Purple twice. After completing the outline of the Orange areas, I'm considering adding some additional detail to the areas where the Sun Yellow and Almond meet. Again, it's always a good idea to live with the work for a while before rushing into numerous changes. I find I come up with better ideas when I take my time. You can always paint over what you don't like.
PLEASE NOTE: THE EVENT AT THE AVENUE LIBRARY IN VENTURA WAS RESCHEDULED TO SATURDAY DECEMBER 16TH AT NOON, DUE TO THE FIRES. FORTUNATELY, THE LIBRARY WAS NOT IMPACTED BY THE FIRE. HOWEVER, THE LIBRARY IS STILL CLOSED AND THE HEAVY SMOKE IS A HEALTH HAZARD. OUR THOUGHTS ARE WITH THOSE IMPACTED BY FIRE.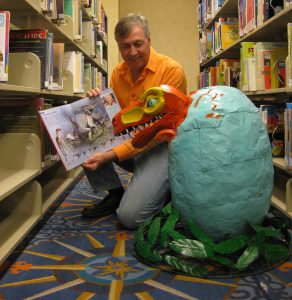 Avenue Library
606 North Ventura Avenue
Ventura, California
(805) 643-6393
Join Kevin & I for "Story Time" a Reading of Dinosaur Fun Facts & Tales on December 16th at Noon. We look forward to seeing You!
Best Wishes for a Wonderful Holiday Season!
"Encouraging the Appreciation of Art and Education through the Inspiration of Dinosaurs"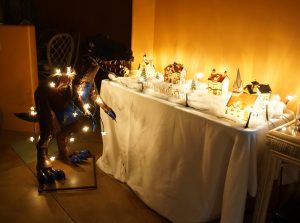 Alejandro likes the Winter Village! Although it looks a little like a scene from Godzilla. More to come with Holidays at the Park!
Paul & Prehistoric Pals
Your feedback is appreciated, Thank you!