Pamela and a Field Trip
Many Paleoartists add spikes along the top of the neck, back and tail on the Pachycephalosaurus. I decided to use paint to create the look of spikes in these areas. A few pieces of cardboard were helpful in creating a template for spikes for Pamela. I used the Hammered Gold for the triangular spikes sprayed through the various templates. I mixed Kona Brown Gloss with the Hammered Gold to add detail to the triangular shapes using a fine tipped artist brush. I made some practice sketches prior to painting on Pamela. It didn't give me the exact look I was hoping. However, it did give me some ideas for other ways to create the affect I had in mind. Experimentation often leads to inspiration.
Last Saturday the Natural History Museum of LA arranged a VIP Field Trip for the Fellows Member level and above to the Wildlife Learning Center. It was a surprise to discover this Wildlife Refuge in Sylmar and right next to a residential area! We were able to meet and interact with over 50 species of animals from Asia, North, Central and South America, Europe, Africa and Australia.
No Lions, Tigers or Bears – however you will find birds (eagles, hawks, owls, parrots), frogs, reptiles (snakes, lizards even alligators), foxes, Servals (wild cats that look like cheetahs), squirrel monkeys, porcupines, sloths and a giraffe! Many of these animals were illegal pets. Others were permanently injured and would not survive if returned to the wild. The later have lifelong homes at the Center. Learn more on their website and how you can help these wonderful animals by donating to the Wildlife Learning Center.
www.wildlifelearningcenter.org
Did you know the NHMLA has live animals? Check them out in the Nature Lab during your next visit. www.nhm.org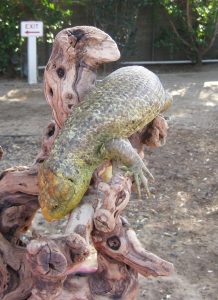 A Prehensile (adapted for grasping) Tailed Skink.
"Encouraging the Appreciation of Art and Education through the Inspiration of Dinosaurs"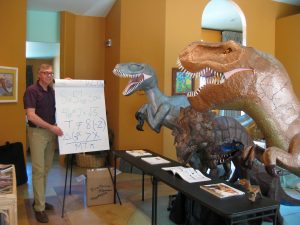 Paul & Prehistoric Pals
Your feedback is appreciated, Thank you!