Start the New Year Off Right with Dinosaurs
I met a few new friends before the New Year. On the way to Christmas Dinner with my Sister in Stevenson Ranch I met a couple of Dinosaurs on the Old Road (an alternate to interstate 5 north) before the Balboa intersection. A Very Large Carnivore and a Triceratops with it's Christmas Cone. On the 30th I came across two T-Rexes and a Triceratops at Somis Koi. The little one is under 2 feet high. He must have recently hatched!
New Year's Day I streamed "Day the Dinosaurs Died" on PBS. A NOVA program Season 14 Episode 21 that first aired December 27th. A very interesting documentary exploring the Chicxulub Crater and taking 300 core samples. Each sample 10 feet long. The analysis of the of samples provided some fascinating discoveries of how the asteroid impact wiped out the Dinosaurs. The Special effects recreating the events are Great. The discovery of one of the Largest Triceratops fossils is discussed – a head 6.5 feet long and 4.5 feet wide making the entire animal Larger than 4 Elephants! I highly recommend checking it out. http://pbs.org
Do you know how many different Ceratopsians have been discovered to date?
The Paleoart of Julius Csotonyi: Dinosaurs, Sabre-Tooths and Beyond by Julius Csotonyi & Steve White illustrates 41 different examples (pages 102 & 103) at its publishing in 2014! This is a great book many of the illustrations are photo composites. A landscape photograph has dinosaurs added so well you believe living and breathing dinosaurs have been capture on film. The only negative is the publisher used a very tiny font for the text. So, you will definitely need your reading glasses for this book.
Over 700 different types of Dinosaurs have been documented to date!
This year I'm looking forward to adding more Prehistoric Animals to the Park and some Prehistoric Plants that still exist today as well. The newest additions in November of last year Pamela the Pachycephalosaurus and Teresa the Triceratops will share their makeover secrets. Also, we will discuss a new type of base for the Prehistoric Residents made from burlap bags filled with sand then covered with concrete sculpted to resemble natural rock and painted to complete the look. Stay tuned for many other Developments and Discoveries All to Entertain and Educate.
Remember January 20, 2018 at 12:00 pm Kevin the T-Rex hatchling & I will be at the
Avenue Library
606 North Ventura Ave
Ventura, CA
805 643-6393
For a Reading of Dinosaur Facts & Fun! Look Forward to Seeing You There.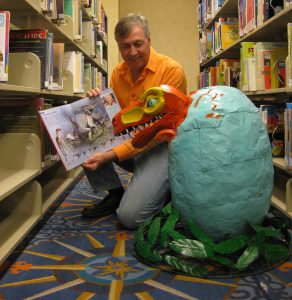 "Encouraging the Appreciation of Art and Education through the Inspiration of Dinosaurs"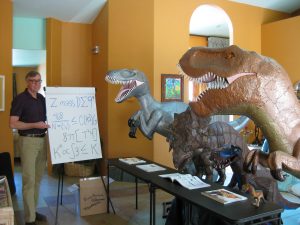 Paul & Prehistoric Pals
Your feedback is appreciated, Thank you!