Have a Very Merry Christmas!
Wishing You All a Very Happy Christmas & Wonderful New Year!
At the Park We will be Singing a Special Version of the Typical Holiday Carols and Reading Dinosaur Tales. We hope you enjoy them too!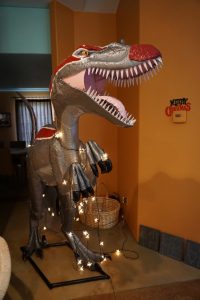 Rudolph the Red Nose Raptor
Rudolph the red nose Raptor had a very shiny nose.
And if you ever saw it you would even say it glows.
All of the other Raptors would shout and call him names.
They wouldn't let poor Rudolph play in the Raptor games.
Then one foggy Christmas Eve Santa came to say,
Rudolph with your nose so bright,
will you guide my sleight tonight?
All the other Raptors shouted out with glee,
Rudolph the red nose Raptor You'll go down in history!
The Twelve Dino-Days of Christmas
An
Arch-
aeopte-
ryx in a Co-
nifer Tree Two
T-Rexes Three Tri-
ceratops Four Roaring
Allosaurus Five Golden Ve-
lociraptors Six Stegosaurs Lay-
ing Seven Pterosaurs Diving Eight
Fossil Hunters Seeking Nine Compsog-
nathus Drumming Ten Parasaurolophus Pip-
ing Eleven Apatosaurus Dancing Twelve Palaeon-
tologists Leaping
1st day of Christmas An Archaeopteryx in a Conifer Tree 7th day of Christmas Seven Pterosaurs Diving
2nd day of Christmas T-Rexes 8th day of Christmas Eight Fossil Hunters Seeking
3rd day of Christmas Three Triceratops 9th day of Christmas Nine Compsognathus Drumming
4th day of Christmas Four Roaring Allosaurus 10th day of Christmas Ten Parasaurolophus Piping
5th day of Christmas Five Golden Velociraptors 11th day of Christmas Eleven Apatosaurus Dancing
6th day of Christmas Six Stegosaurs Laying 12th day of Christmas Twelve Palaeontologists Leaping
'Twas the Night Before Christmas
or Account of a Visit from St. Nicholas
by
Major Henry Livingston Jr. (1748-1828)
(previously believed to be by Clement Clarke Moore)
through the eyes of a young Triceratops
'Twas the night before Christmas, when all through the forest
Not a creature was stirring, not even an Allosaurus;
The stockings were hung on the conifers with care,
In hopes that St. Nicholas soon would be there;
The dinosaurs were nestled all snug in their beds,
While visions of sweet-nuts danced in their heads;
And mamma with some ferns, and dad with some thatch,
Had just settled down for a long winter's nap,
When out in the tree tops there arose such a clatter,
I sprang from my nests to see what was the matter.
Away to the clearing I flew like a flash,
Tore back the shrubs and kicked up some ash.
The moon on the breast of the new-fallen snow
Gave the lustre of mid-day to objects below,
When, what to my wondering eyes should appear,
But a miniature sleigh, and eight tiny raptors ready to steer,
With a little old driver, so lively and quick,
I knew in a moment it must be St. Nick.
More rapid than archaeopteryx his coursers they came,
And he whistled, and shouted, and called them by name;
"Now, DASHER! now, DANCER! now, PRANCER and VIXEN!
On, COMET! on CUPID! on, DONDER and BLITZEN!
To the top of the of the trees! to the top of the mountain wall!
Now dash away! dash away! dash away all!"
As dry leaves that before the wild hurricane fly,
When they meet with an obstacle, mount to the sky,
So up to the mountain-top the coursers they flew,
With the sleigh full of toys, and St. Nicholas too.
And then, in a twinkling, I heard on the ground
The prancing and clawing with each little pound.
As I drew in my foot, and was turning around,
Down to the clearing St. Nicholas came with a bound.
He was dressed all in fur, from his head to his foot,
And his clothes were all tarnished with ashes and soot;
A bundle of toys he had flung on his back,
And he looked like a peddler just opening his pack.
His eyes — how they twinkled! his dimples how merry!
His cheeks were like roses, his nose like a cherry!
His droll little mouth was drawn up like a bow,
And the beard of his chin was as white as the snow;
The stump of a pipe he held tight in his teeth,
And the smoke it encircled his head like a wreath;
He had a broad face and a little round belly,
That shook, when he laughed like a bowlful of jelly.
He was chubby and plump, a right jolly old elf,
And I laughed when I saw him, in spite of myself;
A wink of his eye and a twist of his head,
Soon gave me to know I had nothing to dread;
He spoke not a word, but went straight to his work,
And filled all the stockings; then turned with a jerk,
And laying his finger aside of his nose,
And giving a nod, up the from the clearing he rose;
He sprang to his sleigh, to his team gave a whistle,
And away they all flew like the down of a thistle.
But I heard him exclaim, ere he drove out of sight,
"HAPPY CHRISTMAS TO ALL, AND TO ALL A GOOD-NIGHT!"
"Encouraging the Appreciation of Art and Education through the Inspiration of Dinosaurs"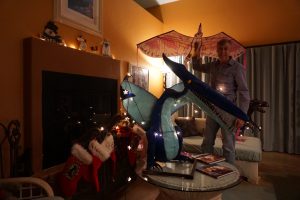 Paul & Prehistoric Pals
Your feedback is appreciated, Thank you!