What Do Dinosaurs Want for Christmas?
Everyone helped out with the Holiday decorations. Some got a little tangled in them. Alejandro decides to setup the Winter Village. It's always a great display. Although with Alejandro alongside it could be mistaken for a scene from Godzilla.
We have a couple of new arrivals, Pamela the Pachycephalosaurus and Teresa a larger Triceratops. There will be future articles about how Pamela got her spots and other colors. In addition, Teresa will have a special color design just for her. Everyone has their stockings to hang on the fireplace or maybe a tree.
So, What Do Dinosaurs Want for Christmas? Well they might not be that different from you and I. Teresa Dreams of Rollerblades – 2 sets of course. Bladerunner Advantage Pro XT for the hind feet and Pro 80 Inline for the front. Teresa's a big girl so she wears men's sizes. Angie and Alejandro Dream of a Punk9DLB Kicktail Longboard from Yocaher Longboards. Alejandro dreams about a Raskullz Helmet to wear when he's tricking out on the board.
And you can find these items at BIG 5 Sporting Goods. Robert the Manager of the Camarillo, California Store and Team Member Helena were Great Helping Me select these gifts for the Prehistoric Pals at the Park.
Pamela is the Acrobat in the Park and Dreams of a Unicycle like Mine. I think we will need a large size for Pamela to manage the petals. The Three Triceratops Christopher, Marc and Paul Dream of Snowboarding in a Winter Wonderland. Dominic and Kevin the Hatchling T-Rexes Dream of Tents and Backpacks for an outing to Dinosaur National Monument National Park which borders between Colorado & Utah. Antonio the Pterodactyl Dreams of Flying a Kite. A Pterosaur of course. We were watching the movie "Saving Mr. Banks" and the "Let's Go Fly a Kite" song made an impression. I was able to find a Pterodactyl Kite from DinoSoars on Amazon. With Amazon's 2 day shipping it arrived today.
However, what Everyone at the Park wants the Most for Christmas is to Spend Time with Family & Friends!
Happy Holidays!
Wishing You, Your Family & Friends a Very Special Holiday Season.
NOTE: The Avenue Library Event has been Rescheduled Again due to the Poor Air Quality from the Fires to January 20th at Noon. Look Forward to Seeing You There!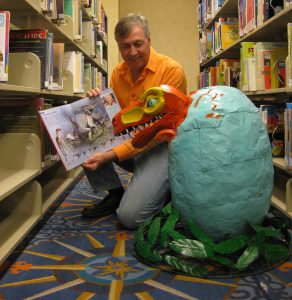 "Encouraging the Appreciation of Art and Education through the Inspiration of Dinosaurs"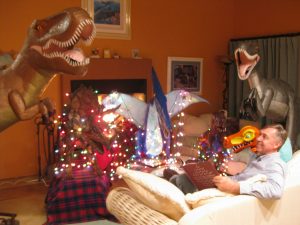 Paul & Prehistoric Pals
Your feedback is appreciated, Thank you!