Dinosaurs & The Strawberry Festival
Join the Summer Fun in Oxnard, California at the Strawberry Festival! This Weekend – Saturday & Sunday May 20 & 21, 2017 10:00am – 6:30pm for an unforgettably sweet experience!
The California Strawberry Festival is among the top festivals in the nation with over 50 food booths, contests, rides and attractions, over 200 Arts & Crafts vendors, concerts, celebrity chef demonstrations, and family fun! The 2017 California Strawberry Festival in Oxnard is the perfect summer kickoff with proceeds benefiting the community in a BIG way.
With every delicious strawberry bite, non-profit food booths reap 100 percent of sales to benefit their causes, while other charitable groups aligned with the Festival receive stipends or grants. Since its inception, the California Strawberry Festival has raised more than $4.5 million dollars to help others in the extended community.
From upgraded computers to new sports uniforms, buses for field trip outings, repairs, new construction, research, after school music programs, and more, revenues from two days of celebrating impact the lives of others.
The Festival contributes to the California Strawberry Growers Scholarship Fund, administered by the California Strawberry Commission. These statewide scholarships benefit the children of strawberry farm workers in their pursuit of continuing post-secondary education.
Established to honor the memory of Dr. Kato and his contribution as founder and chairman of the original Festival. The Festival funds the Dr. Tsujio Kato Memorial Scholarship, awarded to Oxnard Unified School District students transitioning from high school to college. The submission deadline is April 7, 2017.
The Festival has funded a $25,000 endowment to support students at California State University Channel Islands via scholarships in perpetuity.
Dominic & Raphael couldn't wait until Saturday. So, we picked up a small box of strawberries from the local market Thursday for an early kickoff to the weekend. Both are serving the strawberries in their favorite Dinosaur cups!
Direct from the field to the Festival, strawberries are the main ingredients for Festival fun. With more than 50 food booths to choose from, you're bound to discover your berry bliss. A variety of lip-smacking favorites include: strawberry nachos, strawberry pizza, strawberry funnel cake, strawberry chimichangas, chocolate dipped strawberries, deep-fried strawberries, berry kabobs, strawberry tamales, strawberry shortcake, strawberry beer, margaritas, smoothies, and even strawberry popcorn. For those who like to control their own destiny, the Build Your Own Strawberry Shortcake Tent offers the chance to tower on the tastes with pound cake topped with delicious strawberries and mountains of whipped cream. Assembly required! You can purchase strawberries to take home from local farmers.
Note: Cash only for food/beverages. (ATMs located within the Festival for your convenience)
Information about the Festival and "Did You Know?" is provided from www.castrawberryfestival.org For more details, tickets and parking information checkout their site.
There are a number of ways to treat your strawberry cravings. My favorite fruit pie is Strawberry Rhubarb. The sweet and tart flavors with a scoop of French Vanilla ice cream " YUM! Dipping in chocolate is another favorite Strawberry Adventure! There are plenty of choices from exotic chocolates available at a Chocolatier to some pretty spectacular choices at specialty markets and maybe even your local market that caters to the chocolate inclined. For those in a rush, you may have just the right choice already in your cupboard! "nutella" I know, it's not just for croissants!
Did you Know?
*There is an average of 200 seeds on each strawberry and technically each yellow seed is an individual fruit itself.
*It would take 7,000 strawberries to create the red carpet that welcomes the stars to the Academy Awards every year.
*Strawberry juice combined with honey will reduce inflammation or sunburn. Rub the mixture thoroughly into the skin before rinsing off with warm water and lemon juice.
Wishing you a Sweet Weekend and Tasty Week to follow!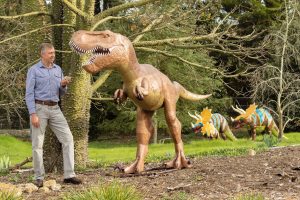 Paul & Prehistoric Pals
Your feedback is appreciated, Thank you!