Ricardo Breceda Artist of the Borrego Springs Sculptures
Ricardo Breceda was born in Durango, Mexico. After College, Ricardo became an Elementary School Teacher. Disappointed with the salary teachers receive in Mexico, Ricardo moved to California staying with his brother while learning a new trade. Ricardo worked his way up from dishwasher at an El Torito Restaurant to manager of a restaurant on his own. A number of Ricardo's clients were in construction. This led him to leaving the restaurant business to work in construction for several years. After an accident injuring his back, Ricardo left construction and started a business importing cowboy boots from Durango to sell in California. Ricardo setup his business along Interstate 215 in Perris, CA selling boots and leather clothing. Ricardo was open to bartering for his goods, which resulted in the ownership of welding machinery. Ricardo would tinker with the equipment in his spare time.
Ricardo's daughter, Lianna seven in 2001 was interested in Dinosaurs. Ricardo rented the first two Jurassic Park movies for them to enjoy together. That summer they went to the theater to see Jurassic Park III. After the movie, Ricardo asked Lianna what she wanted for Christmas. (some people ready do shop early!) Lianna asked her father to build her a life size Tyrannosaurus Rex. And so, it began.
Ricardo met someone who knew how to make large metal sculptures. They came to an agreement – Ricardo would help sell the sculptures they created if he was taught how to make these works of art. Not surprising, constructing a large dinosaur next to Interstate 215 caught the eye of those passing by. This led to Ricardo's first sale, when a very determined motorist took the next exit and found his way back to Ricardo's property. In time, Ricardo began making horses and other dinosaurs. And as they say "Practice makes Perfect" – Ricardo's work excelled.
A few years later he became a world-renowned metal sculpture. The largest collection of his works are found in Borrego Valley, California. There are 129 examples of Ricardo's and Dennis Avery's imagination at this location including a 350-foot Sea Serpent with the head of a Chinese dragon and the tail of a Rattle Snake! The Sea Serpent took 3 months to design and another 3 months to install. It has more than 1,000 scales and was the 129th metal sculpture to be installed in Galleta Meadows.
The late Dennis Avery, land owner of Galleta Meadows Estates in Borrego Springs drove past Ricardo Breceda's Perris "Dinosaur Park" for almost 2 years. Dennis would travel from his home in San Diego to visit his sons at Redlands University. Dennis Avery was very active in the Borrego Springs Community and had provided a grant to help with the publication of "Fossil Treasures of the Anza-Borrego Desert" (2006).
I was able to check this book out from our Public Library in Camarillo, California. It covers the last seven million years of climate changes in the Anza-Borrego Desert and the fossil remains of the plants and animals that lived during these events. The stories of explorers, geologists, mineralogist and paleontologists going back to the 1700's are discussed. The area was home to the Imperial Sea, Woodlands of the Colorado River Delta, Lake Borrego, Borrego Valley Riparian Forest and Stream, and a brushy Savanna prior to the becoming a Desert.
Dennis always kept a copy of this book in his car. In 2007 Dennis stopped at Ricardo's yard. He asked Ricardo what he could make. Upon receiving the reply, "I only need a picture", Dennis produced the book and showed Riccardo a photo of the Gomphotheres (ancient members of the elephant family). Three weeks later, Dennis returned to see Ricardo's recreation of a Gomphothere and immediately commissioned 2 more.
Installation of 3 giant tusked gomphotheres were completed in the spring of 2008 and the Borrego Springs project was completed in 2010.
Avery was able to play Disneyland for a couple of years to the joy of the community and travelers from around the world that come to see Ricardo's creations. Dennis Avery passed away July 23, 2012. Dennis Avery's fascination with the history of the Anza-Borrego History has resulted in over a hundred wonderful works of art in a beautiful outdoor display for the world to enjoy.
I made a trek to Borrego Valley in October to see these wonders up close and personal (see blog postings – Dinosaurs in the Desert part 1 & 2 in Adventures & Activities). I ended the day with a visit to the master himself at Ricardo's display site and workshop in Aguanga, approximately 16 miles east of California Interstate 15 between Sage Road & Route 371.
44450 Highway 79
Aguanga, CA 92536
951-236-5896
ricardo.breceda@gmail.com
Ricardo indicated he has items that sell from $5.00 to $100,000.00. Although Ricardo stated he would not sell any of his work to me, due to my painting the metal dinosaurs. I was quite disappointed. However, I understand. An artist has a vision when they create their art. My preservation process and painting is not how he envisions his work. Something you should consider when searching for an artist to purchase / create your metal dinosaurs.
Ricardo's daughter Lianna is still very involved with her father's sculptures. Lianna maintains the "Ricardo Gallery" in Old Town Temecula.
42061 Main Street
Temecula, CA 92590
951-265-6217
Check out Ricardo's website: www.ricardobreceda.com
Another book to consider:
Borrego Springs Sculptures
Featuring the Artistry of Ricardo Breceda
By Dianna Lindsay
Note: The front & back cover of this book is in color. However, all the other pictures are black & white. It contains a wealth of information on the Borrego Springs project, maps of the area, references to other books about the area and many links to websites and videos regarding the creation of the sculptures for the project and information about the Anza-Borrego Desert. Even Tips on the best times of day to photograph the sculptures are included.
Paul & Prehistoric Pals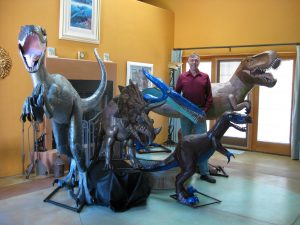 Please let me know of Artists that create metal dinosaurs that You have discovered. Your feedback is appreciated. Thank you!