Angie gets more Splashes of Color!
The Yellow & Almond have received two coats of paint as well as the Nutmeg, Red and Purple. Angie's Lavender Eyes are back too! I created some templates from scraps of cardboard to add another color accent to the yellow areas. The cardboard came from the dog's biscuit box. It separates the layers of the biscuits in the box. Previously I have used this cardboard to block overspray. You never know what can being lying around the house to help with your craft projects. Just use your imagination and problem solved!
I mixed the Ultra Cover Sun Yellow and the Apple Red to create Orange. Remember with the Rust-oleum brush paints you don't have as much of a selection with the colors as you do with their can spray paints. I'm not certain I like the shade of orange after finishing the first coat. I remixed the paint to obtain another shade that I will apply later. Sometimes it's best just to stand back and live with the results for a couple of days to be sure. Don't be afraid to experiment with color. You'll be surprised at what you can create. The good news is you can always paint over anything you don't like.
I'm thinking of adding a little Purple to surround the Orange. I will be experimenting with the Ultra Cover Navy Blue, Apple Red & White to create just the right shade of Purple. Look for the next post on Angie's Makeover for these changes. In addition, I will create a new base for Angie using burlap bags, sand and concrete. I will shape and paint the concrete to resemble a large Rock!
Make sure you have Marked your Calendars for Next Saturday December 9th. Kevin & I will be at the Avenue Library at Noon for a Story Time of Dinosaur Tales! Looking Forward to Seeing You There!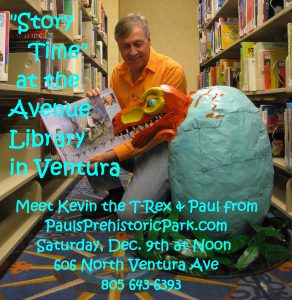 (See Events for more details)
Have a Wonderful Holiday Season!
"Encouraging the Appreciation of Art and Education through the Inspiration of Dinosaurs"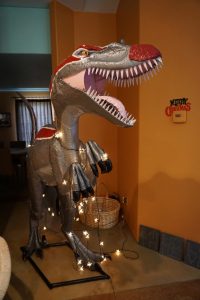 Raphael has his Rudolf the Red Nose Raptor Nose in place and is helping with the Holiday Lights. More to come with Holidays at the Park!
Paul & Prehistoric Pals
Your feedback is appreciated, Thank you!