Today at JurassicQuest!
I arrived a half hour early and a line had already started. You still have time to check it out! They're open until 8:00 pm tonight and 9:00 am until 7:00 pm Sunday. It's Great Fun for All Ages. Outdoor and indoor exhibits with life like and Life Size Dinosaurs! Rides for the Kids and Educational Stations for All. Below Grandma takes a picture of the kids as they marvel at the Dinosaurs. My Favorite Ride on a Carnotaurus. A very pleasant Ride Operator with his Dinosaur. A lone child barely visible with the Towering Giants!
Here are some my favorite shots from the Exhibits. Can you guess the names of all the dinosaurs I photographed? Check the Events page for more pictures.
The T-Rex head was a fun photo opportunity. Kids could climb inside the head from the back and be photographed as if the T-Rex Ate Them!!! Or they could sit in the lower part of the mouth. I thought I was a little too big to fit in either of those poses.
As I said You still have time. Don't miss it!
JurassicQuest at the Ventura County Fairgrounds
10 W Harbor Blvd.
Ventura, CA 93001
Check out their website for details: www.jurassicquest.com
Happy Holidays!
Coming up next Pumpkin Pie from scratch and more on Angie's Makeover.
"Encouraging the Appreciation of Art and Education through the Inspiration of Dinosaurs"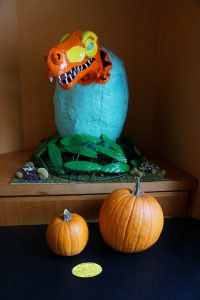 Paul & Prehistoric Pals