JurassicQuest at the Ventura County Fairgrounds
Today and This Weekend don't miss JurassicQuest at the Ventura County Fairgrounds
10 W Harbor Blvd.
Ventura, CA 93001
Check out their website for details: www.jurassicquest.com
I'll be there to check the 80 Dinosaurs – Baby, Walking & Giant! There are lots of Activities too! Exhibitor Tour, Science Stations, Dino Crafts, Face Painting, Fossil Digs & Dino Rides.
Friday 3pm to 8pm, Saturday 9am to 8pm & Sunday 9am to 7pm.
I'll be wearing my PaulsPrehistoricPark.com T-Shirt. So, Introduce Yourself! Looking forward to meeting you All There!
"Encouraging the Appreciation of Art and Education through the Inspiration of Dinosaurs"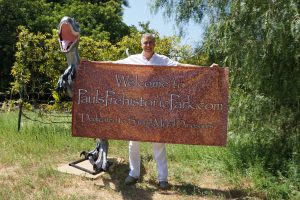 Paul & Prehistoric Pals
Your feedback is appreciated, Thank you!