About Me
Hi, I'm Paul Heinzman.
Like many I have loved dinosaurs since I was a kid. This story starts when I was looking for a free standing trellis to support a wild vine. After an exhaustive search at Home Improvement Stores and Local Nurseries, I checked out a Fountain, Pond & Metal Sculpture Shop near my home (Somis Koi). As I walked through the various unique works of art, I came across a hatching T-Rex sculpture.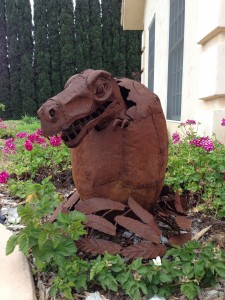 Once I got Kevin, home and placed in my garden, I knew I had to do something to protect Kevin from the weather and continuing to rust. After wire brushing, acid washing, use of a rust convert some primer and final color painting, Kevin was ready for his close-up.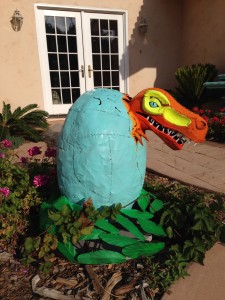 Somis Koi had a 3 1/2 foot tall T-Rex and Pterodactyl that needed rescuing too. Paul's Prehistoric Park was born!
Fountains Garden Art resulted in a Raptor, T-Rex and a Triceratops Family of three joining the Park in 2015. In later part of 2017, Angie an Augustynolophus, Pamela a Pachycephalosaurus and Teresa a Larger Triceratop became residences of PaulsPrehistoricPark.com also from Fountains Garden Art.
After a few months outside the fluorescent colors on Kevin faded. In February 2016, Kevin received a makeover and for extra protection several coats of clear coat. As a result of this experience, clear coating is the final step in finishing for all the Dinosaurs & Pterosaurs in the Park. Kevin looks great! Therefore, Kevin received an honored place in the entry, which demonstrates how well Metal Dinosaurs behave indoors. I will just have to fine another Dinosaur for his former spot outside.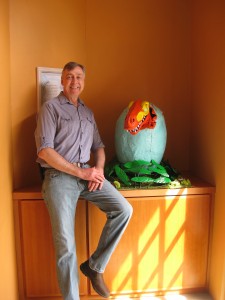 My site will show you the steps I have taken to preserve these incredible works of art with photos, videos (coming soon) and written instructions. How to select a site for your Metal Dinosaur in your yard or even indoors! Locations of available dinosaurs can be found on the Needing Rescue/Adoption page. We will talk to creators of these wonderful works of art and discover new artists from all around the world! In 2017, Mr. Alan of Theta Partners in Zimbabwe was featured with his latest Creations!
The Dinosaurs, Pterosaur & I have Adventures and Activities all year round to entertain you. Visits to Museums, the Library and even the Zoo. We leave no stone unturned looking for the latest on Dinosaurs, Pterosaurs and other Prehistoric Animals. We have fun activities at home, indoors and out. Celebrating Holidays, Cooking, Pumpkin Carving, Book Readings, even a School for Dinosaurs and much more.
The Library visit and Book Reading to the Young Paleontologists of tomorrow, inspired me to write 3 Children's Books with many more in the queue! After seeing the Dinosaur Sculptures in the Desert of Borrego Springs, inspiration has moved me to designing Dinosaurs, Pterosaurs and other Prehistoric Animals for the Park. I look forward to Metal Sculpture Artists bringing these drawings to life – full size as when the Dinosaurs walked the earth! I would enjoy hearing your Prehistoric experiences and discoveries as PaulsPrehistoricPark.com continues to grow!
Thanks for checking out my site.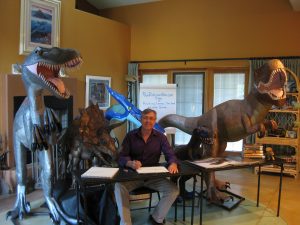 Paul & Prehistoric Pals
"Encouraging the Appreciation of Art & Education through the Inspiration of Dinosaurs"