Events
DUE TO THE FIRES THE AVENUE LIBRARY EVENT HAS BEEN RESCHEDULED FOR SATURDAY DECEMBER 16TH AT NOON.
WE WISH EVERYONE A SAFE RETURN TO THEIR HOMES AND OUR THOUGHTS ARE WITH THOSE THAT HAVE HAD LOSSES FROM THIS DISASTER. THE LIBRARY WAS UNDAMAGED. HOWEVER, THE LIBRARY IS STILL CLOSED. THE SMOKE IS STILL HEAVY IN THE DOWNTOWN AREA AN UNHEALTHY HAZARD TO ALL.
New Date: Saturday December 16th at Noon, Meet Kevin the T-Rex and Me at the Avenue Library.
Avenue Library
606 North Ventura Ave
Ventura, California
805 643-6393
We will be reading Dinosaur Tales and learning about Dinosaurs. You will be able to take selfies with Kevin & I after the readings. Look forward to seeing you there!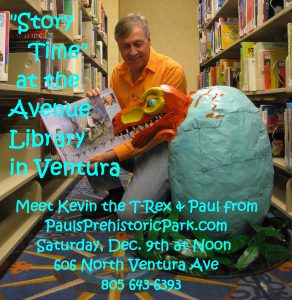 JurassicQuest at the Ventura County Fair Grounds November 10th, 11th & 12th
Here are some additional pictures of the Event! See post "Today at JurassicQuest".
Please email me any pictures of You at the Event at Paul@PaulsPrehistoricPark.com Thanks, Paul
September 23rd & 24th "Dino Fest" at the Natural History Museum Los Angeles County
DAY ONE
DAY TWO