Events
The Avenue Library was a fun event for All! Kevin & I enjoyed meeting the visitors. We talked about our favorite Dinosaurs, shared some fun facts and great stories. "Dinosaurs" the Huge Book by Steve Brusetta had everyone talking about their Prehistoric Favorites. I read 3 books I wrote – "Is a Metal Dinosaur the Right Pet You?", "What Do Dinosaurs Want for Christmas?" and "The Shy Triceratops". Two of my favorites from Mo Willems – "Goldi Locks and the Three Dinosaurs" and "Edwina the Dinosaur that Didn't Know She was Extinct" entertained the group as well. We close with the Fun and Educational Pop-up book "Encyclopedia Prehistorica Dinosaurs" by Robert Sabuda & Matthew Reinhart. We are looking forward to our next Reading Event!
Saturday January 20th at Noon, Meet Kevin the T-Rex and Me at the Avenue Library.
Avenue Library
606 North Ventura Ave
Ventura, California
805 643-6393
We will be reading Dinosaur Tales and learning about Dinosaurs. You will be able to take selfies with Kevin & I after the readings. Look forward to seeing you there!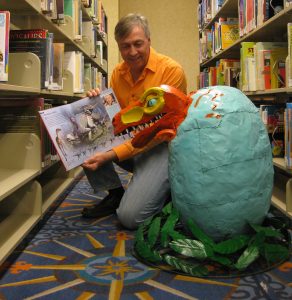 JurassicQuest at the Ventura County Fair Grounds November 10th, 11th & 12th
Here are some additional pictures of the Event! See post "Today at JurassicQuest".
Please email me any pictures of You at the Event at Paul@PaulsPrehistoricPark.com Thanks, Paul
September 23rd & 24th "Dino Fest" at the Natural History Museum Los Angeles County
DAY ONE
DAY TWO