Angie's Painting and Fresh Pumpkin Pie!
After cleaning Angie's "Dino Fest" painting activities, Angie was placed on her side to begin the makeover. After applying the two coats of Rust-oleum's Ultra Cover Gloss Almond, a first coat of the Gloss Sun Yellow was completed.
While the second coat of Sun Yellow was drying, a first coat was applied to the hooves, beak, horn and mouth. Satin Nutmeg for the hooves, horn and beak. Gloss Apple Red for the mouth. Fortunately, I still had some dark purple left over from the first painting prior to the "Dino Fest" Weekend. I had made the dark purple by mixing the Gloss Navy Blue and Apple Red. The purpose of using the dark purple is to hide part of the metal horn. The part that remains visible is the correct shape of a horn for Augustynolophus.
After Thanksgiving I will add some Orange and other colors to complete Angie's makeover.
Fresh Pumpkin Pie
I saved the cuttings from my Halloween Pumpkins to make Fresh Pie. You can always purchase a whole pumpkin for this task. In my discussion with the grocer a small pumpkin will provide a richer flavor for your pie. The larger the pumpkin the higher water content and less flavor. The recipe on the pumpkin calls for 1 ½ cups cooked pumpkin but didn't provide instructions for cooking the pumpkin. Therefore, I Googled how to cook a pumpkin.
The results were: cut in half, remove the stem seeds & string, place halves in a shallow baking pan covered with foil and bake at 350 degrees F until soft. Your oven may be different. I baked for 30 minutes at 300 degrees F.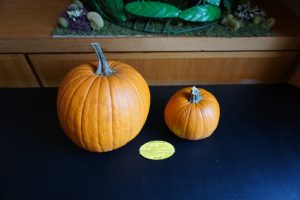 ½ cup packed light brown sugar ½ cup granulated sugar
½ tsp salt 5 tsp pumpkin spice
1 ½ cups cooked/drained pumpkin ¾ cup whole milk
1 can (5 ounces) evaporated milk 3 extra large eggs, slightly beaten
1 9-inch unbaked pastry pie crust pie shell whipped cream
Preheat oven to 400 degrees F.
In a mixing bowl, place brown sugar, granulated sugar, salt, and pumpkin spice, stir to combine. Add the pumpkin; stir vigorously until well blended. Add the whole milk, evaporated milk, and eggs; stir until blended and smooth; Pour the pumpkin mixture into the pie shell.
Bake for 15 minutes. Reduce the oven temperature to 350 degrees F. and continue baking for 45 minutes additional minutes, or until a knife inserted into pumpkin center comes out clean.
Remove pie from oven and place it on a wire rack to cool. To serve, spoon a dollop of whipped cream on top of each slice.
Leftover pie must be refrigerated.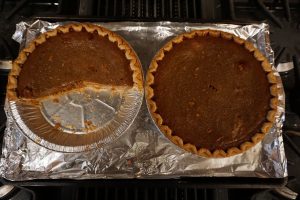 Raphael did you eat one of the pies?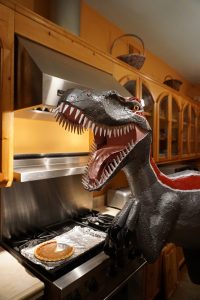 Have a Wonderful & Happy Thanksgiving!
"Encouraging the Appreciation of Art and Education through the Inspiration of Dinosaurs"
Paul & Prehistoric Pals
Your feedback is appreciated, Thank you!