Halloween Results & Thanksgiving Prep
Halloween at the Park was great fun! Craving Pumpkins & Scary Movies or maybe just the "Great Pumpkin Charlie Brown"! Hopefully you didn't consume too much candy. Many Dentists were purchasing your excess candy by the pound. In addition, there are many non-profit organizations that will take your extra candy and send it to Service Personnel in the Military with their care packages. If you still have excess candy check with your local community organizations for options to donate it.
I hope your pumpkin carving went well. The carving tools I purchased last year at Michael's Arts & Crafts were put to use again. I used a regular pencil to mark the pumpkin before carving. One of the tools, referred to as a poker, was great for making indentions on the pumpkin over the pencil marks to make the design easier to see during the carving. After finishing the tools were cleaned and returned the drawer for next Halloweens Fun. I saved the portions of the pumpkin I cut out. I will use them to make fresh pumpkin pie! There is nothing like making it from scratch when you can.
Here's a recipe form Viking River Cruises:
Roasted Pumpkin Soup
The sugar pumpkin called for in this recipe is a cooking variety; dense with meat, tender and perfect for cooking and baking, it is an excellent source of vitamin A. When you purée the soup, remove the center cap from the lid, covering the hole with a towel to allow steam to escape—this prevents the lid from popping off.
Ingredients
1 4-lb (1.8-kg) baby sugar pumpkin, halved and seeded
1 T (13 g) olive oil
Kosher salt and freshly ground black pepper to taste
3 slices thick-cut bacon, finely diced
2 med shallots, finely diced
¼ C (57 g) dry sherry
2 C (454 g) low sodium chicken broth
2 C (454 g) water
1½ tsp (1 g) fresh thyme, chopped
1 C (227 g) heavy cream
Garnish
Directions
Preheat oven to 375°F (190°C). Rub pumpkin halves with oil; season generously with salt and pepper. Place on a baking sheet cut side up and roast until tender when pierced with a fork, about 1 hour. Remove from oven; let cool, then scoop out flesh; set aside. Cook bacon in a large, heavy-bottomed saucepan over medium, stirring frequently until crispy, about 10 minutes. Remove bacon to a paper towel–lined plate; set aside. Add shallots to remaining fat in pan, season with salt and pepper, and cook until softened, about 4 minutes. Add sherry; simmer until reduced by half, 2-3 minutes. Add broth, water, thyme and pumpkin, stirring to combine. Bring to a boil over high; reduce heat; simmer 10 minutes. Remove from heat; let cool slightly. Purée soup in batches in a blender until smooth; pour into a clean saucepan, stir in cream, season with salt and pepper and heat gently until hot throughout. Garnish with bacon and croutons just before serving.
Prep time: 30 minutes.
Cook time: 1 hour 30 minutes.
Makes 6 servings.
Nutritional info per serving:
Calories 255
Fat 19 g
Cholesterol 59 mg
Sodium 651 mg
Carbs 13 g
Protein 5 g
Note: Don't Forget to Leave Out the Sherry if preparing for Children!
Happy Holidays!
Stay tuned for more Thanksgiving Ideas and Angie's Final Painting!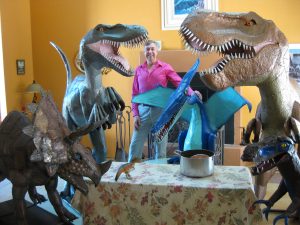 "Encouraging the Appreciation of Art and Education through the Inspiration of Dinosaurs"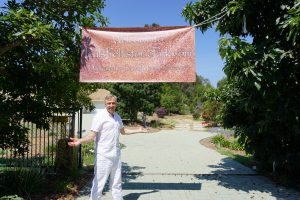 Paul & Prehistoric Pals
Your feedback is appreciated, Thank you!