Haunted Museum & Halloween Fun!
Sunday October 22nd was the Haunted Museum Adventure at the Natural History Museum Los Angeles County. An Exclusive Event for those with Museum Memberships.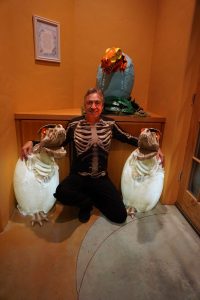 Membership does have its Privileges! Please consider becoming a Member. The Natural History Museum of Los Angeles has many Levels of Membership – Individual, Individual Plus+, Dual, Dual Plus+, Family, Family Plus+, Patron Family, Naturalist, Explorer, Adventure and Fellows.
Each level has increased benefits! For more details go directly to their website www.nhm.org click on the Join Us tab, select Membership, then Levels Benefits in the drop-down menus to see all the benefits. Or just call membership 213 763-3426.
Surely there is a Membership that is "Just Right" for You!
The Fellows Membership was the best choice for me. For the Fellows Membership call Cristina Rosales Coordinator, Fellows Advancement at 213 763-3253. The ability to have one on one meetings is great for bringing the best to my posts.
Best of All Your Contributions through Memberships/Donations help the Museum provide Quality Science Education to the Community. This includes 300,000 Children, Teachers and Members of the Military. The Museum is home to a tremendous collection of millions of specimens that represent the spectacular history of our planet. It is an indispensable resource for researchers worldwide and memberships help to maintain it.
Back to the Haunted Museum Event:
Costumes were encouraged and I decided a Skeleton T-Rex "Baby-On-Board" would make a great addition to My Skeleton costume. I found a pair of T-Rex hatchling skeletons at Home Depot – Terry & Tracy. I could only carry one on my back. I needed to find a backpack arrangement that would hold the relatively light 36-inch-tall and 51 inches in diameter T-Rex. I visited many sporting goods departments and couldn't find anything to fit. Target did have an inexpensive stroller that was my fall back option.
After a great deal of searching online, Amazon came to the rescue! Two Sports Ball Bags in Black Mesh with a Shoulder Strap (30 by 40 inches). I purchased 2 bags to allow me to insert one in the other and have a strap on each shoulder to keep the T-Rex centered on my back. I purchased Black Poster Boards and White Gelly Pens at Michael's Arts & Crafts Store to create the "Baby on Board" & "PaulsPrehistoricPark.com" signs. Using an X-ACTO knife I made two slits in each sign and attached to the mesh bag with wire twisters.
Amazon came through with my skeleton shirt and face make-up too! This was my first time using face makeup. More practice time with the makeup before the event would have been a good idea. The costume was a hit! Everyone loved the T-Rex and got a kick from the Egg & the Red Eyes Lighting up. The sounds it makes and mouth movement added to the excitement. Who would have thought you could find such cool Halloween Decorations at Home Depot!
Last 2 Photos Courtesy of NHMLA/Mario de Lopez
The Haunted Museum was Great! The Food was Wonderful and 14 Exhibits were set up especially for the Event. Each one provided an excellent educational experience in a scary Halloween environment – bats, diamonds, fireflies, mudskippers, mantis shrimp and more. The Spider Pavilion at Night with Flashlights was a special treat! You could sample chocolate covered bugs after exiting. They made me think of Nestlé's Crunch, milk chocolate with a crunch – yum! A show creating a Witch's brew was interrupted with a T-Rex wreaking havoc to the joy of young and old!
Stay Tuned for Dinosaur Pumpkin Craving!
"Encouraging the Appreciation of Art and Education through the Inspiration of Dinosaurs"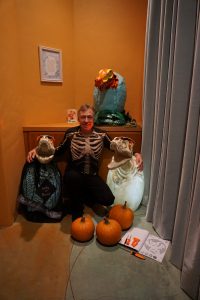 Paul & Prehistoric Pals
Your feedback is appreciated, Thank you!