"Dino Fest" Sept. 23rd & 24th at the Natural History Museum Los Angeles
Mark Your Calendars for and Exciting Weekend of Everything Dinosaur!
The Natural History Museum Los Angeles is presenting the Second Annual "Dinosaur Festival" on September 23rd & 24th. I will be there with a New Dinosaur – Angie an Augustynolophus! Angie is in process and will make her debut at the Festival. We are expecting an announcement at the Festival that "Augustynolophus" is the Official State Dinosaur. So, You won't want to miss this Event!
Make sure you stop by my Tent and introduce yourself. You can help paint Angie! I will have Washable Water-based Paints, Aprons, Wet-wipes and Dinosaur Sponges for Young and Older to give Angie some Color. Wear comfortable Clothes just in case. And there will be "Story Time" too! We're working on other ideas for entertaining Visitors to My Tent at "Dino Fest".
Feel free to email me your ideas – paul@paulsprehistoricpark.com
Look for My Banner on the Tent, "Angie" inside the tent and have a Great Time at the Festival!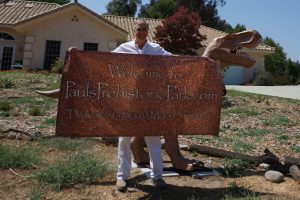 At "Dino Fest" you can meet World-Renowned Paleontologists from the Museum and Beyond. Shop for Dinosaur inspired Gear. Dig into hands–on activities, interactive experiences and Dig Pits. Catch a Glimpse of Rare Specimens from the Museum's Collections and Much More!
And make sure you check the times for "Dinosaur Encounters" a puppet show with larger than human size Dinosaurs! They are Great Fun with Hunter the T-Rex and Dakota the Triceratops. At my last visit, I was able to go behind the scenes with Jon, one of the Puppeteers, and give Dakota my best Dinosaur Voice. Ok maybe I need more practice see video clip below.
For "Dinosaur Encounters" schedule and more details regarding "Dino Fest" go to http://www.nhm.org
If you are a Teacher in the Ventura County Area or know one contact me asap to Create an Activity for the Students at Your School! I will provide up to 16 tickets for a drawing to allow 3 or 4 Families to go to "Dino Fest" FREE! Participation in the Activity will get you in the drawing. Again, Contact Me ASAP so we can put something Fun together quickly!
"Encouraging the Appreciation of Art and Education through the Inspiration of Dinosaurs"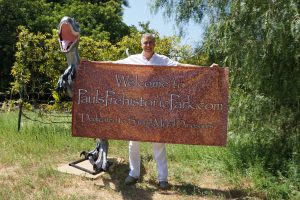 Paul & Prehistoric Pals
Your feedback is appreciated, Thank you!